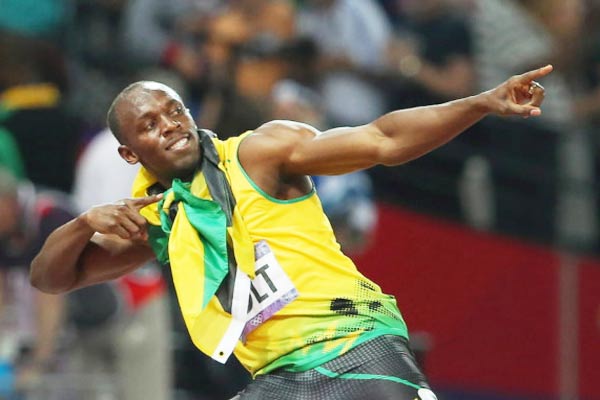 7 mins read
---
Usain Bolt was born on August 21, 1986 in a small village in the district of Sherwood Content Trelawny, Jamaica. He grew up with his parents, Jennifer and Wellesley Bolt, who kept a small grocery store, and his brother and sister Sadeeki Sherine. His mother was modest and kind woman, and his father was a strict man who had two more children with different women. When he was a young boy, his parents turned to the child's doctor, due to its extreme restlessness. The doctor determined that the boy just hyperactive. As a child, Bolt suffered from scoliosis (in which one leg he was shorter than the other), as well as from numerous injuries. However, he was able to handle it. Later, in his autobiography, he recalled that with hard work and discipline, you can overcome almost anything.
As a child, he attended primary school and Waldensia secondary school and that's where he first showed his sprinting potential by participating in the annual national competition of primary schools in his district.
He grew up in a poor neighborhood of Jamaica and his first competition he spent on the track, which had a slope to the finish line two feet. Bolt, along with his brother, he spent his time on the street, playing cricket and football. "When I was young – I recalled Bolt – I was not thinking about anything other than sports".
At the age of '12 Bolt became the fastest runner of the school at a distance of 100 meters. First his favorite sport was cricket. As a child he was a fan of Indian batsman Sachin Tendulkar, West Indian Chris Gayle Player, Matthew Hayden of Australia, and he admired player in the bowling Vagar Younis.
After his admission to the High School William Nibba, Bolt still continued to engage in various sports, but here his cricket coach noticed Bolt's speed on the field and asked him to take up athletics. Later Pablo McNeil and Dwayne Barrett began to train Bolt, helping it to successfully implement its unique athletic ability.
At the age of 15 years it has grown to 196 centimeters (6 feet 5 inches) and became physically stood out amongst his peers. At this time, Bolt began to show his love to dance, and associates describe him as a gentle and quiet young man. In 2001, Bolt won his first medal (silver) at a distance of 200 meters with the result of 22.04 seconds. at the annual Junior Championship. McNeil soon became his primary coach.
Bolt also loves football and is a fan of "Manchester United". After the competition in Manchester, he met with the team at their training camp and gave Cristiano Ronaldo a few tips to sprint. Trains Usain Glenn Mills.
Achievements:
Usain Bolt outstanding Jamaican sprinter and three-time Olympic champion. He is the holder of three world records in the women's 100 meters (9.58 seconds, Berlin 2009), 200 meters (19.19 seconds, Berlin 2009) and, together with his teammates in the relay 4×100 meters (37.10 seconds, Beijing 2008). He is also the holder of the Olympic record at all three distances. At the 2008 Summer Olympics in Beijing, the Bolt became the first man to win three sprint on one Olympics since Carl Lewis in 1984 and the first runner, who set world records in all three at a single Olympics. To date he is the only winner in the 100 and 200m at the world champions and Olympic Games at the same time.
At the 2002 World Junior Championships at the age of 15 years, Bolt won the gold medal in the 200 meters, becoming the youngest gold medalist in the world.
In 2004 CARIFTA Games, he became the first sprinter among juniors who run 200 meters faster than 20 seconds with a time of 19.93 seconds, beating the record of Martin Roy Junior 0.2 seconds. He turned professional in 2004, missed most of his first season because of injuries, but taking part in the Summer Olympics in 2004.
In 2007, he broke the Jamaican Don Quarry national record in the women's 200m with a result of 19.75 seconds. In May 2008, Bolt set his first world record in the women's 100 meters with a score of 9.72.
He set world records in both the 100m and 200m at the 2008 Summer Olympics in Beijing: 100 m. CO time 9.69 seconds, breaking his previous record of 9.72 seconds. and 200 m time of 19.30 with CO., breaking the previous record of 19.32 seconds. Michael Johnson, established in 1996 at the Summer Olympics in Atlanta.
In August 2009, at the World Championships in Berlin, a year after the Beijing Olympics, he broke his own world record in the 100 m and 200 m with the results of 9.58 seconds. and 19.19 p. respectively.
His record in the 100m is the highest since the beginning of the digital measurement of time races. As a result of its success in 2009, Bolt was named Laureus World Sportsman of the year. After winning the 200m at the World Junior Championship (2002) in Kingston, Jamaica, Bolt signed a sponsorship deal with Puma. In Beijing 2008 in the final 100 meters Bolt put the "golden spike" of Theseus from the Cougars on which was written "Beijing 100 m Gold". His agent is athletics PACE Sports Management.
"Many people are tall and have good coordination, – said his manager Simms, Bolt but by its manner of running like a cheetah … Perfect mechanisms and power that can generate his hips, his hamstrings and his limbs are ideal for run. "
August 6, 2010 in Stockholm, Usain Bolt was defeated by American sprinter Tyson Gay Man. Gay won the 100 meters at DN Galan with a score of 9.84 seconds, and Usain Bolt was second – 9.97 seconds. "I did not say that I'm invincible -. Bolt said – I just did not train as seriously as in the past."
August 24, 2010 Bolt said that he wants to defend their titles at the Olympic Games 2012 in London. And he added: "I really think I can be a good long jumper, and possibly my my coach tells me to try to run in the 400 meters."
In addition, he says that he would like to play football at a professional level. "If I keep myself in shape, I'm definitely able to play football at a high level." The manager Ricky Simms Usain Bolt announced that the Olympic champion is taking a vacation until the end of 2010 due to a back injury.
Usain Bolt; At a Glance
Name- Usain Bolt Saint Leo
Born- 21 August 1986
Nationality: Jamaica
Occupation: Runner sprinter
Specification: The fastest man in the world, the world record holder in the women's 100 meters (9,58s) (Berlin, 2009); in the 200 m (19,19s) (Berlin, 2009), and 4×100 (36,84) (London, 2012)
Gender: Male
Height: 1.95 m (6 ft 5 in)